Do-it-Yourself Dog Washing
Providing your dog a bath at home means hair clogged drains, muddy tubs, and a sore back. At Three Happy Hounds, we do away with the mess and stress with our self-service dog wash in Fernley, NV!
Enjoy a private room with a raised tub that will accommodate pets as little as a Chihuahua and as big as an Irish Wolfhound. All washes include the use of our shampoos, conditioners, towels, aprons, fragrances as well as the use of our professional dryer.
Give us a call at (775) 404-4084 to make a reservation or to see if the washroom is available.
Our welcoming, knowledgeable team is happy to answer any questions you may have!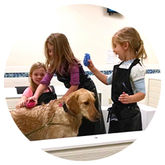 Self-Service Dog Wash
Our self-service dog wash permits you to stand in comfort at the dog washing station, and we provide all the things needed to give your dog a professional wash.
Come visit our dog supply store in Fernley, NV specializing in quality food, treats, and supplies for dogs.